CIP TOUR – Berlibur ke suatu daerah tidak hanya bisa menikmati wisata yang disajikan saja, tetapi juga menikmati festival atau kegiatan yang sedang digelar. Tidak hanya berlibur, Anda juga bisa mengenal daerah tersebut dari festival dan berbagai kegiatan yang diselengarakan, mulai dari sejarah, kebiasaan masyarakat, hingga kuliner khas. Berikut ini merupakan beberapa festival yang digelar di bulan Oktober 2018.
1. Festival Danau Kerinci
Festival Kerinci akan dilaksanakan di kawasan objek wisata Danau Kerinci, Kabupaten Kerinci, Jambi pada tiga hingga tujuh Oktober 2018. Berbagai perlombaan yang bisa diikuti masyarakat dan wisatawan. Acara ini memiliki makna terhadap kesatuan budaya, ekologi dan ekonomi. Ini juga menjadi agenda tahunan masyarakat Kerinci sebagai ajang promosi wisata dan ajang budaya masyarakat Kerinci.
2. Wonderful Food Culinary and Shopping
Dalam gelaran Wonderful Food Culinary and Shopping (WICSF) akan menghadirkan kuliner cita rasa khas nusantara pada 27 September hingga 27 Oktober 2018 di Mall Kota Kasablanka, Jakarta. Tidak hanya itu, juga akan digelar pameran produk lokal khas daerah dan ada penampilan kebudayaan Indonesia juga turut menghibur pengunjung. Selama acara ini berlangsung, Anda juga bisa menikmati wisata belanja dengan berbagai diskon menarik. Acara ini merupakan kolaborasi antara Asosiasi Pengelola Pusat Belanja Indonesia (APPBI) dengan Kementerian Pariwisata Republik Indonesia.
Dengan mengangkat nilai-nilai kesejarahan dan budaya Borobudur sebagai warisan budaya dunia, diharapkan Borobudur Marathon 2018 ini dapat menjadi sebuah ajang lomba lari yang berdampak signifikan bagi lingkungan di sekitar Jawa Tengah. Anda bisa menyaksikan para pelari dan ikut berpartisipasi pada 18 hingga 19 Oktober 2018 di Kompleks Candi Borobudur, Magelang.
4. Kustom Fest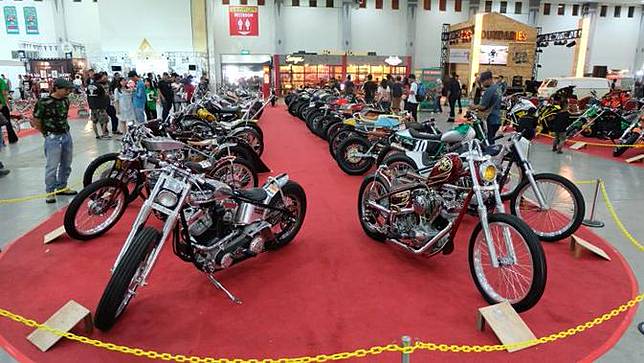 Kustom fest merupakan event kompetisi motor kustom dan pameran kustom terbesar di Indonesia. Selain menikmati beragam karya motor kustom, Anda juga bisa berbelanja di bazar asesoris kustom yang ada.  Acara ini juga akan diramaikan oleh pertunjukan budaya. Acara ini turut mengundang dan melibatkan seluruh komunitas motor kustom Indonesia dan pelaku industri kustom internasional. Kustom Fest menampilkan karya kustom terbaik sebagai refleksi kekayaan budaya bangsa Indonesia pada enam hingga tujuh Oktober 2018 di Jogja Expo Centere, Yogyakarta.
5. Pasar Seni Lukis Indonesia
Pasar Seni Lukis Indonesia (PSLI) menjadi ajang pertemuan para pelukis realis terbesar dan berlangsung secara kontinyu lebih dari satu dekade pada 12 hingga 21 Oktober 2018 di JX International Surabaya. Acara ini akan diikuti kurang lebih dua ratus pelukis yang akan ikut memamerkan karyanya. Sepanjang sepuluh hari pameran, akan ada pementasan teater, musik dan tari kontemporer yang menghibur setiap pengunjung. Menyambut penyelenggaraan Asian Games 2018, acara ini juga akan disemarakkan oleh kehadiran pelukis dari berbagai negara di Asia.
6. Festival Moyo
Festival Moyo merupakan serangkaian acara yang menyajikan tradisi kebudayaan dan kekayaan alam lokal Sumbawa. Mulai dari karnaval pesisiran, pelayaran pulau, pacuan kuda, hingga karapan kebo yang diselenggarakan di sawah berair sejak 8 September hingga 8 Oktober 2018. Selain itu, digelar juga karapan kerbau, balap kuda, kerbau hias, triathlon, lomba memancing, dan penanaman terumbu karang di Teluk Saleh. Untuk berbagai event menarik lainnya Anda bisa lihat di sini